No Defence
—
It took 38 years…..
It is time for the world to know
No Defence is the inspirational, heartfelt memoir of one man's extraordinary courage and determination to overcome appalling childhood abuse to create a life for himself full of personal achievement, love, generosity, incredible physical challenges and amazing feats of ultra-endurance.
But for Kenny, the biggest challenge of all was sharing his long-held secret and finally speaking up – and then to make those who so profoundly failed him accountable for their heinous and indefensible actions.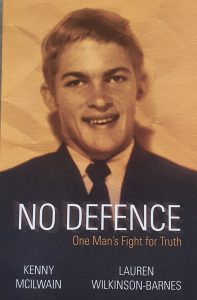 Available to order direct
Copies of the book are available for $25 and can be ordered through the website by clicking the button below. A percentage of all sales will go directly to supporting Bravehearts.
'The heartbreaking story of abuse in the Australian Defence Force we all need to hear.'
—
Belinda Jepson
Senior Features Writer
mamamia.com.au