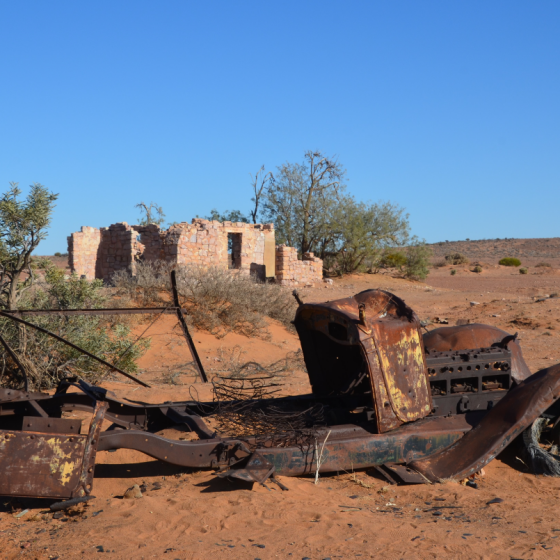 Day 24 – The Birdsville Track – time for a long walk
I walked down through the back gate heading east towards where the sunrise would hit me in the face. Five forty-five am, that time just between the dark of the night and dawn. I had a torch with me but it wasn't needed. Camera at ready, I kept walking. This walking is helping my leg and back which is still giving me grief of late. I saw lots of birds down to the right in the wetlands area but not a single animal. There was a slight southerly wind building up and it was quite cold.
I got a few pictures of sunrise and birds then I headed back to the gate and started walking south towards the turn off to the Birdsville track, 1km away. I could hear a vehicle in the distance and wondered if it would call into Mungerannie. Looking back towards the Hotel and campgrounds I could see about eleven camper trailers all just in the tree line, most of them having breakfast and preparing for their days drive.
A young couple were rolling up their swag-tent getting ready to venture on the track again. The swag-tent was a brilliant idea. Same canvas structure as the old swag I used in my younger days, working in the bush as a painter. There is small loops in each end to feed through the support poles and hey-presto, a swag sleeping bag inside a tent, absolutely brilliant. It's probably an old idea, but very new to me. It would be somewhat heavier than my two-man tent but much easier to handle in this wind.
The cold southerly has now become nearly gale force and swirling dust everywhere. I can see the other campers madly packing their gear. I went over to the dining room and grabbed some toast and coffee. Phil (the owner) said today will be nasty, he's not too fussed on these days as the dust gets into every little crevasse, especially through the doors and windows. Sitting here with my hot coffee I could smell the dust in the dining room air.
Phil has been here at Mungerannie for nineteen and a half years, he doesn't mind the heat but never has liked the winter southerlies. Over the last few days it has been quite busy. Phil has had to order stock weekly just of late, usually a fortnightly task. All his stock is trucked in from Adelaide. I had wondered about the grocery shopping he would need for the kitchen. The food here is wonderful. The salad with each meal was always so delightfully crisp and fresh. And with the number of customers just in the last two nights having been huge he would need so much stock. All the Woodend Rejects rally drivers and passengers and last night the motor bikers. In total I counted 15 motor bikes plus a support vehicle, plus some of the campers, sure is a lot of mouths to feed.
I watch the travellers come in, order a meal (burger with the lot) a cold drink and a receipt. Probably unaware of the work behind the counter to provide them with their needs during their rest stop, they expect the meals to be fresh and the drinks are cold.
The place is always clean and tidy. Paul and Penny, two seasonal workers (second year working here for the winter break) mop the floors inside; wash down the verandas, but not on windy days like today. The dusting is a daily chore which is often done twice, once for the lunch time travellers and then in the arvo ready for the evening travellers that are stopping for the night. The old rule, first impressions will always be remembered.
One of the dining room windows was ever so slightly open and the wind howled through the tiny opening. An eerie noise, I closed that pretty quickly. It's a big jacket day today, all the staff are wearing them while doing their morning chores.
The last of the trailer campers are filling up with fuel and have ordered hot coffee, no cold drinks today. They're heading to Birdsville and have a helping tail wind on the way. Not like the poor bikers, three different groups of them, all fifteen of them in total, heading south to Marree in that horrid head wind. Hope this southerly stops somewhat before I set up camp at Cooper Creek Camp or Clayton Wetlands Camp.
The afternoon came quickly and many travellers came into Mungerannie for the night. Sitting in a chair on the veranda I watched two campers arrive only to notice one was Ellie and family. Ellie my 'lane buddy' from the swimming group I swam with in Picton was on an outback journey with her son Dale and family. They were heading to Birdsville then on to Quilpie.
The sun's going down and I'm standing in the solar powered Telstra phone box, cold southerly wind still blowing, waiting for a dial tone. It seems like I'm in the middle of nowhere here, in the camp grounds. Wow, I have a dial tone, tap in the phone number hoping someone is home. Even when it goes to that 'not at home right now' message, I still get charged. I do like the phone card, no need to carry lots of coins. Funny, I have a mobile phone but no Telstra service, not until I reach Marree, that'll be seven days without mobile service. It's still great to be able to contact family on the old 'phone box'. Feels like E.T., 'phone home'……ha.
Cheers Kenny Mac
Day 25 – The Birdsville Track – Clayton Wetlands Campsite
My Isuzu Ute is fuelled up and I'm ready for the two-day drive on the last part of the Birdsville Track. The wind is again gale force today with small isolated dust squalls in the air, whirly winds we used to call them. There is young guy who has just fuelled as well and is checking the back wheels on his Land Rover. A hefty kick with his boot to each wheel, then with both hands on the tyre, shake each one for any wobbly movement. He must have had a feeling there may be something not right while driving. He's all happy now, with that kick and jiggle.
The track in this bottom section to Marree is just the same as the first bit, sandy, corrugations and horrible rocky bits. Funny, it's never mentioned in any conversation with travellers because it's just that. I stopped at a couple of other rest areas that were on the map. One had toilets (Cooper Creek), the other had both toilet and showers (Coolabah Campgrounds $25 honesty box) but I'm heading for Clayton Wetland campsite, they have toilets, shower and a warm tub/spa and only $10 honesty box.
I set my tent up beside my Ute and hopefully it will mostly be out of the wind. The couple Penny and Paul were camped over the other side of the hot tub area. They had a few days off from working at the Mungerannie Hotel and are spending it here at Claytons.
I had some lunch while the Artesian bore water filled the tub. It was so warm, just what my body needed at this point in time. I must have sat in the hot tub for an hour. Paul and Penny came over and spent time in the spa. While we were enjoying the warmth a couple of almighty sand storms blew through. Paul said it has been like this all month, I said it's been a southerly nearly every day of the 26 days I've been on the road.
Oh no! The inside of my tent was covered in fine dust, over everything. Well, it's not the end of the world, I've had worse things happen. I pulled out and dusted off all my sleeping gear and swept out all the dust I could from the tent floor. I need a rethink because the wind and dust was blowing under the Ute and directly into my tent. So I grabbed the tent rain cover and put it over with lots of rocks around the bottom edge next to the Ute. That should help considerably. And it did. It wasn't long and the dust settled around the rocks and not inside.
I lit a small camp fire and had a go at making and cooking a damper. The mix was one I bought from Happy Camper, just add water, knead and cook. I wrapped it up in huge number of bits of super strong alfoil and chucked it in the hot coals. I waited 15 minutes and pulled it out. Omg, it was black (on the outside) but really quite nice on the inside. Had a cup of tea and ate what I could of my damper for desert. Check out the photos – I really need a camp oven for this stuff.
Later in the afternoon, lying here in my tent, I look back and reflect on what happened the day my cycle adventure came to an end. I'm still indescribably, intensely disappointed in not being able to continue the A2A on my trusty bike 'The Northern Express' which is now all pulled apart and packed neatly in the back of the Ute. I ponder on, 'what if' for a while and then remember that we should always enjoy the moment now, not then and not what's to come. So I look around me and see the wonder of the outback, here, where I am at the moment and smile. This is a beautiful vastness no matter how you travel. It won't be long before the night sky, full of stars, will blanket me and my dreams.
Day 26 – The Birdsville Track – the last section to Marree
Note: 1:30 am, it's freezing and I'm rugged up like an Eskimo. Seeing I was awake I ventured outside and tried to get some nice pictures of the stars now that it's pitch black.
I only had 52kms drive from where I was to Marree. I made breakie and dusted off all my gear before I packeded it away.
On the way I stopped and spent some time wandering around the 'Lake Harry Homestead' ruins, amazing it's still standing. The story is remarkable. More than 100 years ago a labour-intensive experimental plantation of 2,000 irrigated date palms were planted. One story goes, the project failed due to lack of bees to pollinate the trees. Only the homestead ruins and the bore remain. Even an old rusted vehicle relic is still sitting in the paddock.
There are lots of eagles out this morning eating their usual daily feed of road kill. Huge flock of galahs feeding, then as they flew away I looked up and saw the town of Marree in the distance. I was a little excited, I will have mobile service and laundry facilities today, it's been seven days without them. I'm not complaining about the phone, it was good to be just on your own.
'Hang on……..oh no', I was little disappointed, no Telstra mobile service. I pulled into the service station and asked about the mobile service. They said it went off this morning and should be back online later this afternoon. Kenny Mac is a little happier now.
I found the only Telstra pay phone box and rang the family to say all is good I'm here safe. I got a cabin at the local caravan park and did all my washing. Seven days of no washing and boy did I need that done. I was running out of clean clothes. I'm absolutely looking forward to wearing something that didn't smell of dust or campfire.
All showered and clean fresh clothes on I'm, off to an evening at the caravan park 'Camp Kitchen'. For $15 I can have a 2 course dinner and not have to wash-up. It was a wonderful menu tonight, Spaghetti Bolognese, freshly baked bread and butter with apricot crumble and ice cream for dessert. Live music and a campfire all included. Love the outback folk they are wonderful people.
The dinner was fabulous, met lots of travellers, nearly all of them heading for the Birdsville Races. We were informed during dinner that Telstra mobile connection won't be fixed until Friday. A few asked me about the condition of the Birdsville track, I told them same as most other tracks, but a lot has been graded Mungerannie way.
I can now say, 'The Birdsville Track – done and dusted', well……… a new saying now 'done and dusty'……..ha
Enjoy the photos
Cheers Kenny Mac