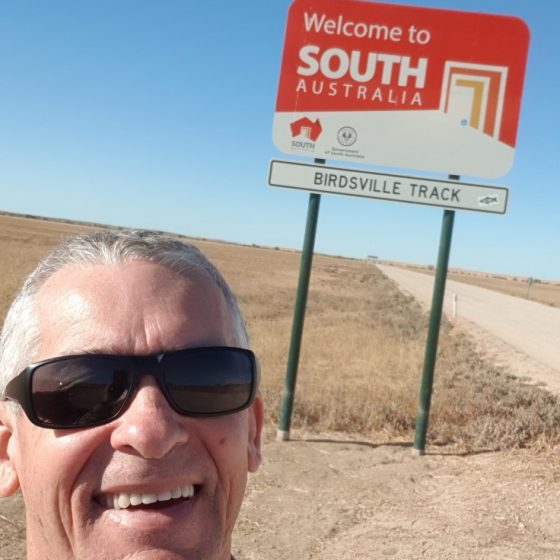 Day 20 – The Birdsville Track Journey Begins
If you spend three or more days in this desert region sleeping on the side of the road you will find your concept of luxury has been rather forcefully redefined. Finding a spot to erect your tent where the soil is soft and easy to fashion into a comfortable sleeping spot is not always easy. The very same spot has to be out of the wind, so you can light your little methylated spirit stove to cook dinner and breakfast. The winds these past three weeks have been at times gale force. In saying all this, it is still one of the most peaceful ways to just spend time.
A welcome sign for me! It was just at the start of the Birdsville Track – 'Road Conditions', to Marree, 'OPEN – 4WD ONLY'. I was on my way south on the famous Birdsville Track. It reminded me of back in 1976 myself and three others attempted to ride our street motor-bikes down the inside track (there was no outside track then). On our way to Birdsville from Warwick it had rained, a little more than we expected for the outback. So our attempt down the track was boggy and didn't happen. We had to turn back and spent Christmas and New Year in Birdsville. So I'm looking forward to completing the track this time.
After travelling some distance I came across another Caution Sign – 'Bull Dust Next 266km'. Even though you may think it, It's not my meaning of "bull dust" for the next 266kms, it's referring to the road conditions….ha ha.
Another 50kms into the track there was a detour of about 20kms because that section of the track was still under some water. The sand was absolutely brutal on this detour section and I could see why the sign said '4WD ONLY'. But in saying that I came across a 2-wheel minivan, similar to the old Mr Whippy van, not long after being back on the track itself. He had made it through the sand okay by the looks of him, but was stopped just before a large floodway-creek crossing (where you really needed high clearance). The crossing was dry but extremely rocky. He said he would have a cuppa and decide what he would do. He was on his way to Innamincka.
After about 180kms, in the distance I could see a grader working the road. I had seen a sign saying 'grader ahead' some distance back. I slowed and held out a small, cold bottle of Coke that I had in my esky. He stopped and I gave him the cold drink. Graham loved it. We chatted for ages, he told me he would grade 20kms a day which would take 9 and half hours. He would work 18 days straight then he would have 10 days off. Graham and his offsider have a movable camp that they would shift every 60 or more kilometres. They will grade the track all the way to the QLD border. Life in the outback, absolutely amazing!
On the side of the road campsites in the outback always seem to be dry, dusty and mostly treeless, unless you find an old dry sandy creek area. You have to be careful not to venture to near the soft sand, finding a spot with some shade and flat ground is ideal, but not always easy.
Certainly different from the days as a lad when I would camp near the local river, green grass, lots of water and bird life. Now that was luxury camping. I planned to stop at the Tippipila Creek Bush camp. I found the most amazing set of toilets (water flushing) and clean about 1km before the creek, absolutely in the middle of nowhere. The creek area didn't really have the 'CAMP' bit at all. It was better suited for a trailer camp and such but not for me with a tent.
I continued on and stopped at Mt Gason Creek crossing, it was classed as a 'Rest' area. It looked far more promising. I checked out the area for a spot to camp down for the night. It looked like caravans and trailers had stayed here before, their tracks have left bulldust everywhere, so it was not an ideal spot to set up my tent. Then I found a spot under a tree with no tyre tracks, I thought this will be perfect. That was until I started putting my tent together, then I noticed the ants! Ants and bulldust, out of there quick smart! And off I went to find another spot by the roadside. No wonder there were no car tracks in that section.
From that unwelcoming area, I drove on further but there was only rocky landscape, part of the Sturt's Stony Desert which is mostly dark red-brown pebbles, the Gibber Plains. It was not long, and I found a tree, a shrub really, I parked my Ute, set up my table for dinner and decided I would sleep in the Ute. Looking at the blue sky knowing that it won't be long before night fall and I'll have the stars to watch over me while I sleep. I was happy with this quiet spot. Well, it's not like I could pick another room….ha ha.
There were no more caravans and camper trailers on the road, they had all found spots for the night, only me in this spot. The road is now quiet and the dust has settled. I had my usual roadside dinner of 'Cattlemen's Beef Stew' and black coffee. It will only be a short drive to Mungerannie Hotel tomorrow. Now, did I mention there are so many flies, not nice at all. I'm sure they'll disappear on sunset, not long now.
Good night all. I've eaten, cleaned my teeth, washed and put some warm sleeping clothes on as it'll probably be around 2 to 7 degrees in the morning.
I was thinking about the night before, in Birdsville, a couple asked me whether I get lonely camping just about anywhere in the outback by myself? "Nah", I said, "I think, I listen to the night, watch the stars and write stories and notes" just like my latest story, 'The Two Trees'. I hope you all enjoy reading it below.
Cheers Kenny Mac
The Two Trees
There were these two small trees living beside each other in the outback at the junction of the Simpson Desert and Sturt's Stony Desert. One of the trees had not shown a sign of life many years now and the other tree didn't notice, but continued to talk, to his friend with the dry trunk, for years.
"Hey Bro!, You never talk back, is there something wrong?"
He continued, "Well, you know me, I love to talk, so I'll continue to talk as I do. Butt in when you want to.
Did you hear those four young Grey Grass Wrens talking late yesterday afternoon; they never stopped for a breath, nothing like me, hey! Three of them landed on my branches and one landed on yours. The Wrens were talking about how much seed they ate and what a lucky find in the dry bush they had. After eating all day, they were looking forward to a good night's sleep in our branches.
Oh wow! did you see that falling star? There have been an enormous number of them this month. Just the prettiest sight in the night sky. I heard a camper say to make a wish if you see one. If only they knew, every time you see a falling star you get an extra year added to your existence. That's what Oldman Tree said to me when I was a baby seed. Still, I do like watching the stars falling.
Anyway, back to the Wrens. The one on your branch came over to one of my branches with the others, it was hot over there on yours and no cover, he said. Lucky they can't hear me talk all night, I would certainly keep them awake. Though I should get some sleep myself, big day ahead for me." said the Tree.
The tree talked nearly all night with the exception of two hours between midnight and two in the morning, that's all the rest he required. The birds slept well, safely hidden in the foliage of the tree.
Dawn arrived and the birds stirred and prepared themselves for another day of foraging for food. The tree was still talking to his next door neighbour, hadn't stopped since 2am.
He continued, "Won't be long before the sun is up, looks like another scorcher is coming our way. As I was saying before, that awful dingo came over and urinated on your trunk. I thought he would leave me alone, oh no, he moved over to me and proceeded to do the same on my trunk, just yuk!
I have noticed over the last few months those campers drive up to you, start breaking and sawing bits off you, putting it in their vehicles and driving off quite happy. You're starting to thin out my friend, I'm worried.
Okay, the sun is up, I'll have to stop talking, got to get to work, all this synthesis is hard work, don't understand why they call it photosynthesis, I don't take pictures. Talk with you again at sunset, by my friend. Have a great day." said the Tree.
So started another day, one of many for The Two Trees of the Outback.
Kenny Mac 22nd Aug 2019.