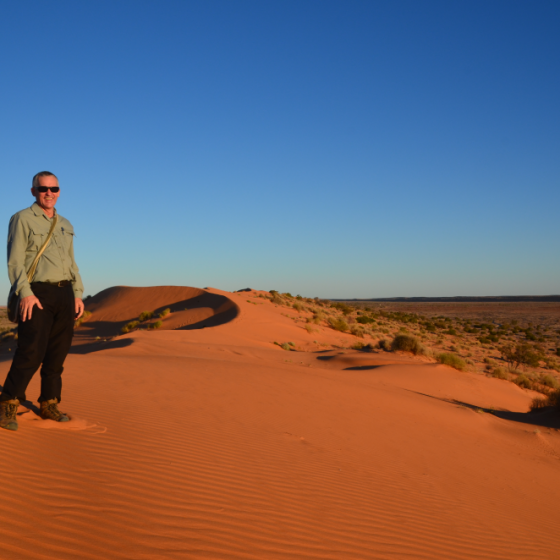 Birdsville, famous for the September Horse Races and the Big Red sand dune, the first (or last, depending on which way you're travelling on the Simpson Desert), is 35 kilometres from the Birdsville pub.
Seeing the 'Welcome to Birdsville' sign showing the population as 115 (+/- 7,000) is quite a laugh and only because of the races in that week of September every year.
The water for the town comes directly from underground, The Great Artesian Basin. A bore was drilled in 1961 to the depth of 1.3 kilometres. It comes out at 280 lbs per square inch with a surface temperature of 98 degrees Celsius. It goes into cooling ponds then it is pumped up 20 metres into huge tanks before sending it to town for drinking water and house-hold use. I was amazed seeing the water coming out at such a rate and steam rising in the air.
I went to watch the sunset from the top of 'Big Red' and it was an absolutely wonderful experience, including the 4-wheel drive scramble to the top. This Eastern-most sand dune in the Simpson Desert is the legendary ridge of sand called Big Red.  It's about 30-40 metres high and is the highest and most difficult dune in the Simpson. The first of about 1,140 parallel dunes in the Simpson Desert. Sitting on top of the 'Big Red' watching the spectacular sunset is an experience not to be missed.
Off to travel the famous Birdsville Track, and I may not have coverage for some time. Chat soon.
Please enjoy the photos.
Cheers Kenny Mac