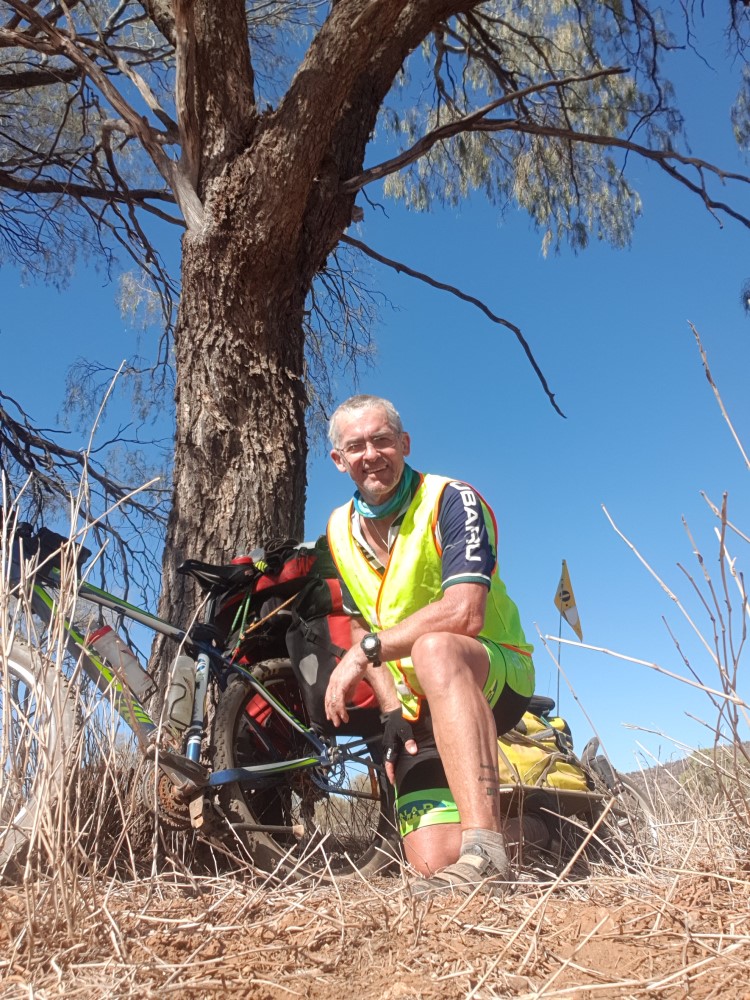 Hi All,
Lan (Kenny Mac's Daughter) here.   While Dad is out doing the hard work I am helping him out by keeping you all updated on how he is travelling.
We had no communication the first 3 days, he has said that the service (Telstra) so far has been non- existent.  Usually he will write a post and send it through to me to share.   With very limited Wi-Fi access and Telstra service he took photos of his diary so far. 
Enjoy reading his Journey so far with these extracts from his diary.  It was a tough 3 days but when I spoke to him he is loving it.  He told me all about his little 'stack' in the sand,  how he laughed – bloody sand.   He sounds great.
Day 1 – Saturday 3rd August 2019
Up at 530, eager to start the ride, made my porridge and black coffee, washed up.  Carried my yellow Bob bag out to the bike only to notice the front tyre was dead flat.  OMG what a way start to the day.  Wheel off, tyre off and found the valve stem was leaking – that meant a new tube.  Yellow bag back inside, unpack and put a new tube on.  All fixed, bugger it was only a new one as well.  Repack and load the bike up.  So much weight, food and H2O so bloody heavy.
It was 2˚c in the morning and very cold all the way to camp.  Oh then I copped a 3rd thing, head wind SE really strong and that's why it was so cold.  I could only do 13 – 15 km/hr on the flat and 9 km/hr on the hill and also I rode the East MacDonald Ranges – so tough.  I am totally exhausted today, even one of the huge hills (dirt road) I couldn't ride up, I had to push and if I stopped for a breather the weight of the bike would roll back, even with the brakes on.
Arrived at Trephina Gorge National Park around 2ish, left at 8am so 6 hours of hard work.  The last 8 kms was dirt, some corrugations, some cramps, took me to the bottom of everything.  Looking forward to dinner and a lie down ready for tomorrow.  The Bluff Campsite was closed so am staying at Gorge Campground site 5 for $3.30.  Got a wonderful photo of the stars at 200am.  Up for the toilet, the walk down to the loo was good.
Day 2 – Sunday 4th August 2019
That 60kms took me to my limit, physical and mental exhaustion.
Left Trephina Gorge just before 0800 and rode up hill nearly all the way to Arltunga Historical Reserve.  Corrugations were never ending my hands cramped, fingers mainly, just hanging on so hard to the handle bars.  The weight of my gear was making it very hard; I walked about 20 of the 50 climbs today.  After climbing for 4 hours I was pushing up the ridge where you could see back at the East McDonald Ranges.
A couple stopped to see if I was okay, I told them all good, just a bit steep to ride.  The lady looked at some gadget and said I had climbed 633 meters since Alice Springs.
I was walking at 2.6 km/hr.  It was a slow day; I was getting worried about making it to the Hale River Homestead.  Then I saw the 6kms to go.  OMG so good, looked at my clock and knew I would get there about 400pm.  Only did 60kms, tomorrow is 108kms – no big hills but corrugations and sand.  Might have to leave early.
Day 3 – Monday 5th August 2019
No big hills, not true!  The climbs were horrific with sand & corrugations, pushed many of them – all of them.  The trailer with food is so heavy in the dirt.
I guessed I might ride for 10hrs and stop for lunch and breaks about an hour and decided to leave at 7am.  That means up at 5am, as it takes about 2 hours, breaky, pack up the tent and gear and load up the bike.
Very cold, had 4 layers on and arm warmers.  Country side is the same for km after km.  At about 10am the people I had dinner with last night at Hale Homestead (lamb roast and bread and butter pudding) were heading to Gemtree, I asked them to tell reception I was coming, may be a bit late (they close the shop at 5pm) but I would be there.
The first 53 kms up to the Pinnacles (the turn off) I had a tail wind, so good even that little help.  A couple of kms before the turn off a property owner and his wife stopped and filled all my water bottles up. They were heading to Alice for supplies.  He said the road up to Gemtree was a bit of a goat track in spots.  It was horrible in spots.
The sign at the turn off said 40 kms to Plenty Highway and then I knew I had 8kms to a hot shower.  After completion of the first 20 I was exhausted the dirt, dusty rocky corrugations climb were the hardest, just draining all my energy.  The back wheel on the bike would hit a rock and stop you, push on, then the trailer wheel would hit a rock, if not the same one, just no momentum.
Got to the top and had a 5 min break & drink. Love my lunch break, my tuna mix and an apple, fabulous.  Cover myself in sunscreen and off.  Oh and the fly net, that was the best investment.
I had 3 gates to go through and at the last one I had 7 kms to the Plenty Highway. Was getting very worried about the time now my estimated arrival was about 7pm (dark).  Glad I had lights front and rear.
The road just before the last gate was very sandy & corrugated.  I would keep moving to the best hardest bit and slog on.  Then I moved to a bit I thought was, well looked quite solid, it wasn't.  Sand was way too soft and threw me off.  Down me and my bike went.  Broke my mirror.  Took me 10 mins to lift my bike and trailer up out of the sand and keep going, pushing for a while to get my strength back.
The last 7 kms to Plenty Hwy was total corrugations, travelling – well bouncing along at 6km/hr just over an hour to get there.  OMG how good was it to see the highway and it was BITUMEN, 8 kms to rest.  It was 6pm at the turn and I could only muster up 14 – 16kms, but no bouncing, so good.
Arrived at 645pm and the owner came and showed me to my room, they saw me arrive, lights and all, nearly dark but not quite. I was given the nicest welcome ever. I bought a coke, Powerade and a cherry ripe.  Showered for ages to remove the red dust.
Lying in bed cramping, soft bed is so good.  I have WiFi access; I get ½ hr free every 24 hr period.  So I can't talk to the guys until tomorrow night.  Had the best sleep other than the cramps.
Tough 3 days ride over the East Macs!
Kenny Mac