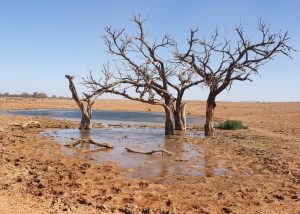 Day 34 – Rest Day at Oodnadatta
My plan for today was to visit the many historical places in Oodnadatta, complete my washing, work out my travel itinerary to get home by the 13th via Sydney and Newcastle. It will be a chance for me to visit three of my daughters during my journey home.
One of the two new solar powered remote area water treatment plants has been installed and is operational in Marla and here in Oodnadatta. Four dollars for twenty litres of clean drinkable water. It is certainly cheaper than buying bottles at the roadhouse.
"OCA (Outback Communities Authority) said the coin operated dispensers provide high quality water to the travelling public and in times of need to the local community. These Outback Water Stations are 'self-contained' water treatment plants utilizing reverse osmosis filtering technology powered entirely by renewable solar energy. They have a zero carbon footprint."
The railway museum was more than just a museum. It was full of the town's history as well as many Aboriginal stories of the region. Well worth a visit if you ever come to Oodnadatta. I stopped in for a lemon squash at the local pub. My family think I'm just doing a pub crawl considering I have been getting selfies at all the pubs on my travels so far. It just happens to be a great meeting place for all travellers.
I had a huge chuckle when I walked past the four old cars parked in the side yard of a place in the main street. They were from four different decades, 'Long Term Carpark' I called it.
I headed back to the Post Office which is inside the Pink Roadhouse to mail some post cards and a present to my grandchildren Maddie and Harry. I had purchased several post cards from places I have stayed at over the past week or so. I have to wait till I get to a Post Office to mail them.
At the roadhouse there was about thirty motor bikers with six support vehicles. All were fuelling up and adjusting tyre pressures. I saw a couple doing running repairs to broken bits. I spoke to one of the guys inside after he ordered some food. They had all met as a group in Birdsville (they were from all over the country) and have ridden the Simpson Desert and were off to Marree down the Oodnadatta Track then up the Birdsville Track back to Birdsville, they called it the Big Circle.
While I was preparing dinner I rang Coober Pedy to book a room in one of the Underground Motels. Because of all the current happenings in the Outback right now, you couldn't just rock up and get a room – places were filling quick. I tried a couple of places, all booked out. I was so lucky there was one room left at 'The Underground Motel', now mine for tomorrow night.
Day 35 – Kempe Road to Coober Pedy
"One important reason for travelling from one place to another is to find out what's in between."
The 194 kilometre road to Coober Pedy was far better than I expected, a few bad bits but mostly like a dirt highway. I read where many movies have parts filmed on this road and on sections closer to Coober Pedy. About halfway I came across the Mount Barry waterhole which was amazing to see. Water with dead trees, great for a photo, that's all. Several trucks drove past as I was taking photos, dust and more dust everywhere.
About 50kms from Coober Pedy I found the spot everyone talks about, the 'Moon Plains'. This is the barest plain in South Australia. In places there is no notable object in the 360° view. The soft ground is littered with beautiful pieces of clear gypsum crystals, gemstones and hundreds of pieces of petrified wood. It's difficult to imagine a gigantic forest must have once stood in this spot.
The movies 'Mad Max 3' and 'Ground Zero' were shot here. In Mad Max most of the car chase scenes were filmed on this rugged terrain of the 'Moon Plains'. The vastness of this area has out done all that I have seen over the past couple of months travelling here in the Outback.
On the way into Coober Pedy I passed the Dingo Fence, the fourth time I have seen it on my travels. Coober Pedy is what I would call a moon scape, with mounds of mostly white tailings everywhere you look. The entire town is built on Opal hills.
I found my accommodation effortlessly. The room underground was sensational, beautifully designed and with one temperature day and night. I spent the afternoon doing a mine tour and looking at the intriguingly beautiful cut opals. They seem to put a spell on you when you look close up into the colours.
On the way out of the Umoona Opal and Museum I spotted the crashed spaceship featured in the movie Pitch Black. It was left behind by the production team and sits derelict next door, near the toilet block in the parking lot of another local opal museum.
The home stretch – Coober Pedy – Burra – Narrandera – Sydney – Newcastle – Home
Today I leave the dirt roads of the Outback behind me. It's like leaving a dear friend, I feel sad. Now nearly three thousand kilometres of bitumen and no red sand or brown dust.
Once I reached Port Augusta the colours changed from brown to greens. I even spotted my first view of the ocean since 22nd July.
Early in the morning after leaving Burra, I swerved to the left to miss a rather big kangaroo only to hit another monster coming out of the bushes. That put a halt to my journey real quick. The kangaroo was dead and the left hand front of the Ute was somewhat broken with bits hanging off and water running onto the road. I did swear a bit as it came as a shock to me. Needless to say I will not share my dash cam video with you all – definitely not PG rated. I was lucky the water was from the windscreen washer tank and not the motor or radiator. I got out some gaffer tape and did a repair job just like they do on the damaged cars in the Bathurst 1000.
I let the Ute run for a while and all seemed good. I then drove 50kms all the time watching the gauges. I stopped to check the tape was still holding the damaged bits together. I cautiously continued on and got to Narrandera and all seemed okay.
The countryside was amazing, colours of plant life with no stress. I made it to Sydney safely and visited two of my daughters then onto Newcastle to see my third daughter. It was a great way to end my A2A journey. Made it home to Ballina safely, travelled 10, 198kms in my wonderful Isuzu Ute and 573kms on my bicycle.
Cheers Kenny Mac