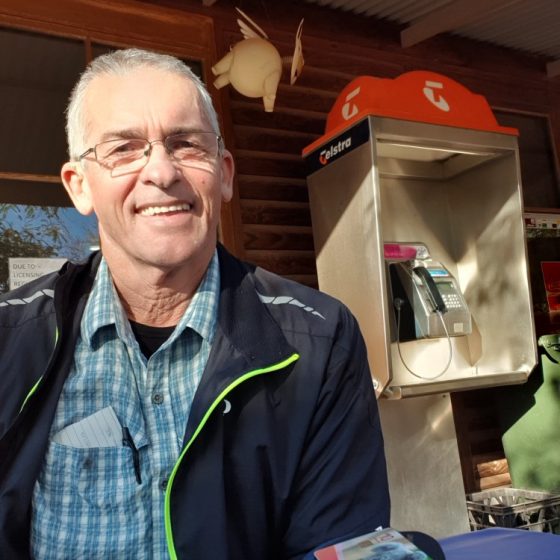 Day 6 Continued….  Atitjere to Gemtree
It was very busy at the Atitjere shop this morning and gave me an opportunity to ask if anyone would be kind enough to drive me and all my gear to Gem Tree sometime today. I remembered one of the shop guys from the other day and asked if he would spread the word that I needed some help. I offered to pay for the fuel and a fee for their time.
I bought some food, well to be exact I got; a microwavable cheese burger, three oranges (only seven in the shop), a powerade and a coke.  I went outside and found a spot in the sun to warm up, the wind was still blowing a gale and it was cold. I took all my wet riding gear off and put on some warm dry clothes. Hung the wet ones over the seat to dry in the sun.
Every now and then Arvo would look at me and give the thumbs up, "soon" he would say. So I learnt that thumbs up meant 'promising and looking good' and not 'got a lift'. So I relaxed in the sun with some of the locals and chatted about the town and surrounds.
Later, as I went over to my bike to grab some more gear, a large man, white, asked "how are you, you okay?" Told him my brief story about getting a lift. He said that he worked down the road at the clinic and if I hadn't got a lift by 4:00pm he would take me. "Wow, that's great", I said thanking him.
I sat back in the same sunny spot, nearly all the local people had moved on. Just me and a little dog sat there quietly. I took some pain relief; I was feeling the 32km of corrugations from this morning and starting to get a little tired. I had now come to understand my predicament and was at peace with my decision.
It was around lunch time when a rather large, very dark-skinned aboriginal man with the biggest smile asked if I was the white dude who needed a lift to Gemtree. With a quick, "yes please". He said he would take me in his lunch break. OMG, how wonderful is this man.
He fueled up his Ute, we both loaded all the bike, trailer and gear into the back and hopped in. His two young daughters were in the back and would be company for his drive back home. I must have had a smile bigger than his.
I introduced myself, took me long enough, how rude, maybe a little excited about the lift. His name was Kyle and a very quietly spoken man. We both chatted about the red center and how it's a beautiful place. He told me that Atitjere was the name of a small bird and that all the aboriginal named places are all birds, plants, animals and things in their environment. He told me about the mountains and all the countryside we drove through. He said his grandfather lived here and knew all about this land and also taught Kyle everything about it.
It wasn't too long a drive chatting away and no sooner than we had arrived. Kyle helped me unload the gear and he was off, he had to get back to work now that his lunch break was over. I paid Kyle the agreed fee, but how can you ever thank someone for such generosity with just money. Kyle had saved me trying to ride that 78kms and in his lunch break.
I showered, ate what I could and went to bed knowing that I had all day tomorrow to repack the gear ready to ride to Alice Springs. I have decided to ride back to Alice.
Cheers Kenny Mac
Day 7 – Rest day at Gemtree
I needed to eat, I was up early and put my washing on. OMG, the smell of the riding clothes, they call it 'Fat Burn' odor. How must I have smelled to Kyle driving me over yesterday. I walked down to the kitchen, 600m away from my cabin and ordered breakfast. Oh, how I miss my coffee from Coffee & Kitchen in Ballina.
Sitting in the warmth of the sun, still windy and cool, I met an elderly gentleman (okay, he was older than me, ha), Kevin. He said that he and his convoy (three 4×4's with camper trailers) had just been driving the Binns Track and noticed how bad it was. I told him I had ridden a section of it and agreed. He then said how one of his group got bogged in the bulldust at Mt Dare, it had covered the entire car wheels with dust and they had to tow him out.
I had intended to do that same section, my thoughts were now, no way, would I attempt that. Thanks I said. His group were heading up the Binns Track to the north. That was the turnoff where I had a cuppa with Robin and Kate on the Plenty Highway.
I toddled off back to my cabin and to hang my washing out, think about packing some gear and what I would need for the next two days' ride to Alice, 140kms away.
Then baam……….it was lunch time. Off I went again down to the kitchen. I had a chicken wrap, the first time I've had salad in 8 days. I looked up from the table, writing notes, I saw an aboriginal man filling his Ute, it was Kyle.
We said hello and I told him that I would ride to Alice over the next two days and start the drive to Boulia on Tuesday. He said for me to pop in at Atitjere to say hello before I hit the dirt roads.  "Absolutely", I said, "Where are you going today?".  Kyle was heading into Alice Springs to do some shopping. With that he and his family were off.
Amazing, he has to travel 220kms just to get to town, whether for grocery shopping or specialty goods or services and then 220kms back home. There's an entire day and the cost of fuel, and to think we complain.
The staff here at Gemtree are just incredible. Nothing is a bother, they would just help where ever they can. The food is always tip top. The evening meal is ordered through the day, before 4pm and is then delivered to your door, whether it is a cabin or caravan or camper trailer, just brilliant! I would call this place the Hilton of the Dusty Red Center.
As I sat down to have my dinner an old couple just arrived and I noticed all the rear lights on their ute were melted. Oh, they had just lost their caravan in a fire that afternoon. His clothes were in the Ute but all of her belongings were lost. The staff here at Gemtree all came offering clothes and anything they needed. And I thought I was doing it tough, hah. Poor souls.
Bike and trailer is packed, I'm ready for the next two days (not really just being tough). I'll try to head off in the dark.
Cheers Kenny Mac