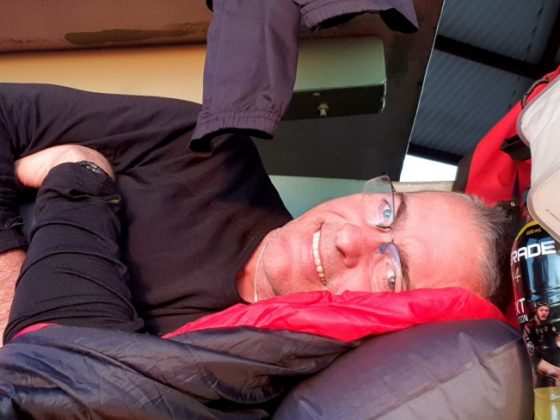 Day 8:
With the condition that I was in, I knew I had to get back to Alice Springs and work out a new plan. Thinking about the new plan was not my priority, it was getting to Alice safely and without any further injury.  I had 140kms in total and the junction of the Plenty Hwy and the Stuart Hwy was exactly halfway. My idea was to at least get to that point or a bit more, find a rest stop or a safe spot to camp on the side of the road for the night.
I headed off at 6:30am in the dark, sunrise around 7am, that way I could get some distance done before the WIND started. Hah!, no luck there, the wind was still strong and bitterly cold, 3 degrees. Having bitumen all the way was comforting mentally and the only time I had to get off onto the shoulder of gravel was when a car, caravan or road train was coming either way. I let them stay on the bitumen as not to spray me with stones. In the first 50kms I only saw 2 work utes, 1 caravan and 2 road trains (4 x rigs). That's the other reason I head off early, not much traffic.
The road then veered to the south for the next 20kms and I was directly riding into a head wind, made riding quite hard. I would sometimes yell at the wind in anger, "Are you kidding me, do you really need to do this, so early in the morning, and what would it benefit anyone", I would rant but just kept doing circles. Funny how you do and say silly things when you're in pain.
I would stop the nonsense and think about some of the things Kyle told me like how, 'I would look through the eyes of a white man' meaning I wouldn't see things in the bush, like a kangaroo or the currently purple flowering plant (small one on the ground). And maybe he was right, in all the kilometres I have completed so far I have only spotted two red kangaroos and one dark coloured dingo. Then, I saw one, a purple coloured flowering plant, not one but two. Wow, how good was that.
Looking ahead I could see the Stuart Highway turn off sign. The morning went quick and the kilometres rolled by not thinking about riding in pain. It was 11 o'clock and I stopped at the junction for a lunch break, my Tuna flat pack and water. Looking around, the place was strewn with rubbish and bull dust, not a very pleasant place to make camp. I headed off down the Stuart H'way looking to find the next Truck Stop or Rest Area.
Two kilometres on was a Truck Stop for road trains, all dust, dirt, gravel and some bitumen, not good here either, safe wise. Kept riding and a little further I could see blue coloured sign ahead. I knew what that meant. Blue was a Rest Stop sign notifications and directions, they are always blue. The green ones are distance markers.
The blue sign said, tables, toilets (long drop one) next 35kms. I looked at my Garmin (speedo and timer). I've done 73kms, Yes, I thought I have plenty of time just go slowly and get to the rest stop, then I could slowly ride into Alice the next morning. Only 35kms. The Southerly head didn't relent at all. Gee, it must be cold down south of the country if it's this windy and cold up here.
I made it, I had some help from a class who have been watching my progress and what they are thinking. 'Done give up Kenny Mac, but be safe'. The Rest Area happens to be on the Tropic of Capricorn. Felt so good, took me nearly three hours to ride that last section and on bitumen.
Time to set up camp for the night. Well, this was no normal campsite, there were only spots for caravans, trailers and the like. I saw some spots a bit further in the bush but it was all fenced off. So I decided to camp under the table at the further end of the area. Because there was no way to erect the tent, no rocks or ground to peg it in securely. I set out my gear on the concrete floor and blocked off the wind with my spare bags. This would make it a little cozy and warm spot out of the wind.
I set up my Trangia stove on the table made dinner and a cuppa tea. After making sure all my gear was secured from the wind and people, I crawled into my sleeping bag and watched the sun go down. It was amazing watching the sunset colours change every minute until it was dark.
Day 9:
It was warm, not so comfortable on the concrete in my sleeping bag, until early in the morning. It had become very cold. I did notice the wind had stopped. Yahoo!!!!  This means a way more comfortable ride into Alice.
I was up before the sun again, quick cuppa, pain relief, packed up and off to Alice. I was the only soul up at this time, hope I haven't woken any of the sleeping campers. No hurry today, only 35kms to do. The first thing I will do when I get to Alice is find a café and have a real breakfast and a flat white coffee. Still often think about how I miss my morning coffee at Coffee & Kitchen in East Ballina with Todd, Gus and Jen.
Peddling along looking at the landscape like Kyle told me, slowly and how the smell will change with every change of flora. Then about 20kms out of Alice when I saw a group of cyclists coming towards me, about eight of them. All on racers and wearing lycra, must be a training group. I waved, smiled and watched them ride off in the distance from my mirror. Thinking to myself, if they are doing say a 50km or 60km loop they might catch me before I get to Alice.
I was right, here they come. The group flew passed me yelling, 'hello, good morning' with the exception of the last guy who slowed and stayed and chattered with me for a kilometre or so. They train as a group every Saturday and Sunday mornings followed by their chat and coffee. He then took off at great speed to catch up to his group.
I stopped and took photos on my way and arrived in Alice Springs just after 9am. Rode down the main street and found a café on the street mall. The mall was completely covered in stalls – the Sunday Alice Markets were on.
I ordered my breakfast and coffee and sat in the sun. Because it was an easy ride this morning, I had lots of time to think, "What will I do now?". I told myself……………….
Kenny Mac, this is not a failure –  sometimes things happen that ruin our original plan, I have learnt over the years that these changes don't mean that I have to quit the journey or that it is a failed journey –  it's about never giving up.
Although this injury is preventing me from completing the cycle that I had planned, I am not going to let it change my goal of raising awareness.  I plan to drive as I would have ridden and I will continue to share my story and raise awareness and fundraising for Bravehearts.  I plan to share with you all the beauty of the outback, its people and my journey as I continue on in this adventure.
So make sure you continue to follow my journey. Yes, there are those of you who see this as an absolute failure, that's fine, you are allowed your opinion and I'm sorry to have disappointed you.
My decision was a hard one to make and agree with, but one's health is very important. The driving is still an uncertainty and I will deal with all obstacles as they appear.
          "you can knock the man down but he will still get back up and continue the best he can……"
Cheers Kenny Mac