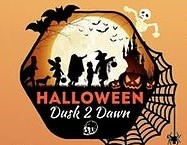 Halloween Dusk2Dawn Trail Race      31st Oct – 1st Nov 2020.
It's been a pretty tough year for doing events either riding, running or just trekking, with events cancelled, postponed or changed to virtual, due to this horrible Covid19 virus. Having done the virtual Australian Outback ½marathon and the virtual City2Surf 14km I got excited when I read the Halloween Dusk2Dawn 12 hour trail running race was to be an actual race. A 7 kilometre trail in the surrounding bush at Charlie Watt Reserve, Telegraph Point.
The excitement that I had wasn't because of the 12 hour race but there were several other distances to run.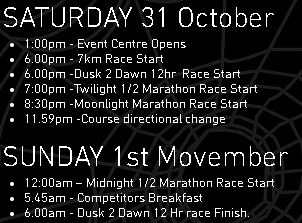 Wow, how magical it would be to run a Midnight ½ marathon. Then the Kenny Mac logic set in……. I also entered the 7 kilometre race because it would be good to see the bush trail in the daylight before I attempted to run it in the dark. I figured I could possibly get around the trail in about an hour and a bit and finish before sunset.
I wasn't too concerned about the change of direction at midnight and the time between races. I entered both races and the excitement changed to 'are you sure about this Kenny Mac?'
Funny I go through this same process in every event I have ever entered.
Having entered both races there were now only three things I had to do. First to complete the 'HALLOWEEN DUSK 2 DAWN COVID Form', secondly was to make sure I had all the mandatory gear and lastly train for the race. With the first two completed I looked at my current running regime. I have been running twice a week with my neighbour Grace, Wednesday's 7kms and Friday's 5kms (our pretend Parkrun) then on every second Sunday I would run between 13 and 16kms up and down the beaches here in Ballina. Figuring this would do, I continued training up to the week before race day and had an extremely easy last week.
This is the list of mandatory gear I had to carry at all times:    Mobile Phone (for photos and to call the organisers if you need them), Whistle, Water Bottles or Bladders (capacity to carry 1 Litres of water), Compression Bandage, Headlamp, Spare/backup light and Emergency Space Blanket.
It was about a four hour drive down the new freeway to Telegraph Point. I arrived around lunch time and helped the organisers carry the gear from their vehicle down to the sports ground and setup. I then found a spot next to a beautiful old gum tree and set up my little camp. I was going to sleep/rest in the back of my Ute between races.
The weather forecast was not looking good with severe storms warning around race start.
We were indeed lucky that the storms went around us, but this made it humid and quite warm for the 7km race. I ran quite freely and felt good but all the time saying, 'take it easy this is just a reconnaissance run, my race is the Midnight ½'.
I ran through the finish line and it was still light, which is what I had hoped for. 54 minutes was my time. The track was a typical bush trail, very wet in spots, quite technical in the thick bush but absolutely brilliantly decorated with Halloween things the entire way and pink ribbons as track markers on the left hand side as you ran anticlockwise.
First race done, I washed and wiped myself down, grabbed some warm clothes and rested in my makeshift bed back in the Ute camp. I got a few hours' sleep before I woke at 11:00pm to prepare for my run. I had a second set of running clothes (nice and dry) and made a cup of black coffee to have with a health bar. Funny how I have used all the same gear and prep as I do when I go on my MTB cycle treks in the outback, Methylated spirit stove to make my coffee, Kenny Mac's 'Bum Cream' to stop chaffing and Ice Gel  to warm up my leg muscles. I do love this tried and tested preparation system.
In the line-up of Midnight runners I spotted several who had completed the 7km race. They might have done it for the same reason as me, to see the track in the daylight. It was so strange lining up at the start at midnight (all social distancing) with headlights.
I was happy to stay upright for the first 4 kms then down I went. I hit a tree root and was grounded quite abruptly. Lights, moving shadows, twigs, branches, leaf-litter, it was a little more difficult than I expected.  I did have two near misses as well. I got through the first lap in 1 hour and 1 minute and was happy with my progress so far.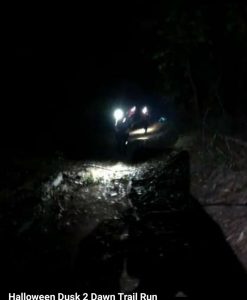 The second lap saw me fall down two more times. It's my right leg, I think I'm lifting my foot 5cms off the track but it's only going up 1 -2cms. The track was marked exceptionally well, the pink ribbons had a silver reflective section and you could easily see where to go. My second lap time was 1 hour and 9 minutes. I was happy with that considering the number of falls I had.
It was 2:10am and the temperature started to drop a little, to around 10°C. 3kms into the third lap I had massive fall, no injuries, but covered in mud, dirt and leaves. I looked like a SAS snipper except for the bright orange singlet. I brushed myself off and continued on my way. I fell another three times and was totally exhausted. I walked for a couple of kilometres and ran the last kilometre to the finish line.
During my last lap I was passed by three of the 12 hour runners. I've competed in three 12 hours races myself, on a track mind you, not a bush track they are absolutely amazing. My finish time was 3hrs 26mins. The slowest ½ marathon of the 59 I have now completed.
At about 3:30am with my finishers medal in hand I wandered back to my Ute camp, cleaned myself up, got into some warm clothes and snuggled up into my sleeping bag. I tried to get some sleep before 6:00am because I wanted to go and watch the last few runners come into the finish after their gruelling 12 hour run.
My sleeping idea just didn't happen, cramps, hunger and thirst got the better of me. I did rest until 4:15am but that was it. I made myself a cuppa and went and watched some of the guys and gals' finish.
Now I'm home looking for another adventure. Let's see what is available in this Covid19 chapter of ours here in Australia.
Cheers Kenny Mac