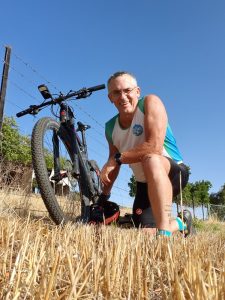 Adelong – Batlow January 2020
My youngest daughter, Angela, and her partner Andrew had been planning their Australia day wedding all last year.  It was to be held in the beautiful little town of Batlow, NSW. Andrew's grandfather, known to all as Pop, is in his nineties and was so excited that his grandson was to wed in his town.
Then the headlines, 'Batlow burns in a fire storm' sent all the plans into disarray and Pop was evacuated along with all the other towns people. The wedding reception homestead and many of the accommodation places were burnt to the ground.
After several trips and talks with organisers and towns people it was decided the wedding could go ahead. Rearranging accommodation, wedding reception hall, catering, bus hire to ferry everyone to the wedding from all over the region was done in a loving military manner and the wedding of Mr. & Mrs. Gleeson was a brilliant success.
I had already started my daily training, both running and cycling, in preparation for the first few events of 2020.  The first event is a 25 km run in Wynyard Tasmania being held on Saturday 29th February.  To keep up this training I took both my MTB and Racer bikes with me to Adelong.
TRACTON Homestead, 6 kms outside of Adelong is where the Mcilwain clan stayed. It was a farm home-stay – sensational.  I could ride everyday and enjoy a run around the "block", it was 1.47 km around the house paddock.  The riding on the farm and around the district was quite hard at times, there were hills everywhere.  Well I was in the Snowy Mountains region. The cattle would stop eating and all look at me as if to say, 'what are you doing man?'.
On my rides I would see the devastation that the bushfire did to the landscape; black soot, ash, dead trees and burnt sheds and homes. You see all the bushfire chaos in the papers and on the news but it's not until you are in the middle of it, that it really makes you feel the hopelessness these towns folk went through.
I trained every day.
YOU CAN TRAIN ANYWHERE – I DO
Cheers Kenny Mac