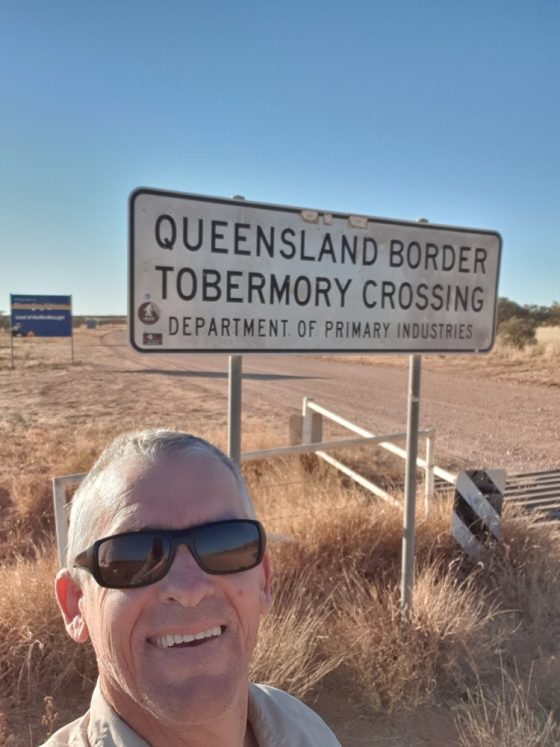 Day 11:
My aim on day 11 is to make camp at Tobermorey station tonight and continue onto Boulia the next day.  I left Alice at 6:30am, had a straight forward drive on the bitumen to the Plenty.
Highway turn off. The speed limit was 130 km/hr but I only drive at 110 km/hr because it saves on fuel big time. Turned easterly at the junction of the two highways and headed for Atitjere to see Kyle as I promised.
I followed the Utnalanama Range up to the Gemtree turn off then passed Mount Riddoch and followed the Hart Range until I reached Atitjere. It was 8:35am and I was hoping I was in time to see Kyle before he started work. I parked outside his house opposite the General Store. Then I heard from a distance, "Hey Ken!". I looked up, there was Kyle in his work clothes at the Community Centre Office and heading towards me. That smile, only a Kyle smile. I gave him the gifts for his kids. He said, wow this is fabulous, his girls love drawing stuff. We exchanged addresses, I intend to always keep in touch with this wonderful indigenous man and his family.
I fuelled the Ute ready for the 340 kilometres of dirt madness. I can't remember the Gibb River Road being this bad when I rode Darwin to Broome. The fuel costs here are terrible if you compare to back home. It was $2.15 per litre, and I remembered the people in Ballina complaining about it being $1.50. I will say it again, these guys have to drive 220kms to go to town and then the same coming home. That comes out of their pockets before they spend anything.
I waved to Kyle and his fellow workers as I head out of their community ready for some slow dirt driving. Even though the speed limit is 110 km/hr I will probably do around 75 to 85 km/hr, much safer for me. The further east I headed the mountain ranges disappear and the flat lands started. I was now on the top end of the Simpson Desert. Much dryer than previously but still some life in the flora after this year the 'non rain' floods. All the creek beds were now dry and full of sand.
Then I spotted the caravan, totally burnt to the ground. It was the van owned by the older couple I saw at Gemtree the other night with the back of their ute melted. They were so lucky they didn't lose their ute from what I could see. Devastating, just horrible for them.
Getting closer to Tobermorey, about 20kms to go and I found 'Bulldust Heaven', what messy stuff to drive through, it was half a wheel height in depth and covered nearly all across the road. Arrived at Tobermorey just on 2:00pm, even going at the slow safer speed (for me anyway) I still got here quite early. Grabbed a site and fuelled the Ute. WOW……only $2.30 per litre. Stop your whinging city folk. If these people want to go to town it's a long drive to Mt Isa.
John and Bill Speed and their families have done exceedingly well to get their place back to some form of workable business let alone the camping grounds and 2 cabins. This entire place was under water in March of this year. On the 28th Mar 2019 the headline in the paper read, 'Tobermorey Station under water as ex cyclone Trevor deluge continues'. There is a new ablution block with an open attached kitchen. The men attend to the farm (1.5 million acres) and the ladies to camping and fuel side of things.
I was the only person staying here up until close to dark when two guys from WA arrived, they were travelling the entire track called, 'The Outback Way'. It's from Laverton in WA to Winton in QLD. This track has a nickname, 'Australia's Longest Shortcut'. They just cruise alone and enjoy every moment. I enjoy the same, we laughed. I said, is it us oldies or something in the water'……ha ha.
Sunset was a little plain tonight but watching the moon (nearly a full moon) was striking. Made my dinner for the night, Country Beef Stew and some two minute noodles with a cup of tea and honey, what more could a man ask for. I rugged up expecting a cold windy morning and lucky I did, it was.
Day 12:
My last whinge about my injury, I can barely walk this morning, will be pleased to reach Boulia for some, what I would call, real rest. Heading out from the station, it's about 1.5km to the Plenty Highway and then only 4kms or so to the Queensland border.
I was only driving at 40km/hr and half way up the station road I spotted a flock of green budgerigars, the brightest green yellow I have ever seen. Slowly, I stopped and carefully hoped out of the Ute, quietly closed the door and started taking some photos. There was a huge flock and they would fly up in the air spin in a group circle and back down into the grasses to feed, then off again. Got a few nice photos, must say, I thoroughly enjoyed watching them before they flew off into the distance.
Standing there on the side of the road I noticed how green it was in patches, all the water and floods from March, no wonder the cattle are looking so healthy. Back on the road, next stop the NT-QLD border. OMG, not much to that, a blink of your eye and you'd miss it completely. A cattle grid, and a small white sign. 'QUEENSLAND BORDER – TOBERMOREY CROSSING – DEPARTMENT OF PRIMARY INDUSTRIES'. The time changed on my Ute clock, half an hour forward. The road is now called the Donohue Highway.
From the border to Boulia is about 250kms of flat grass lands, with a few areas of trees and a windmill or two. The trees are not very tall about 2 – 3 metres you would only see the big ones where there was a creek line. But the windmills, they were huge. I remember as a lad working out west, I helped build a Southern Cross 25 foot (7.6m) windmill and I thought that was big. These are the 60 foot (18m) towers with their wind wheel diameter about 14 foot (4.3m). Sorry I'm old school I remember the feet and inches and have approximated the metric measurements. I'm talking 44 years ago here…ha. Even then the windmills had the blurb of being 'Wind to Water'.
Lots of bitumen, must be getting close to Boulia, the Diamantina Developmental Road junction ahead. I arrived in town around 11:30. I had already made a booking at the Desert Sands Motel before leaving Ballina (so long ago). John & Genevieve Hammond and their daughter Marnie, absolutely wonderful people. I have WiFi and a laundry here, free as well. Needed both, haven't had much communication for a while with my blog master, Lan.
I meandered down a block to the Australian Hotel for lunch and a coffee before unpacking. There was a list of Boulia's top attractions I had compiled for my day to day booklet. Now that I'm here I found there all those and even more, this place is full of history and wonders.
Now to rest the back and leg, oh and me of cause….ha. Menthol rub and heat packs. I will catch up with the blog now I have WiFi and a chance to sit and write it all up on the computer from all the hand written pieces of paper.
Cheers Kenny Mac