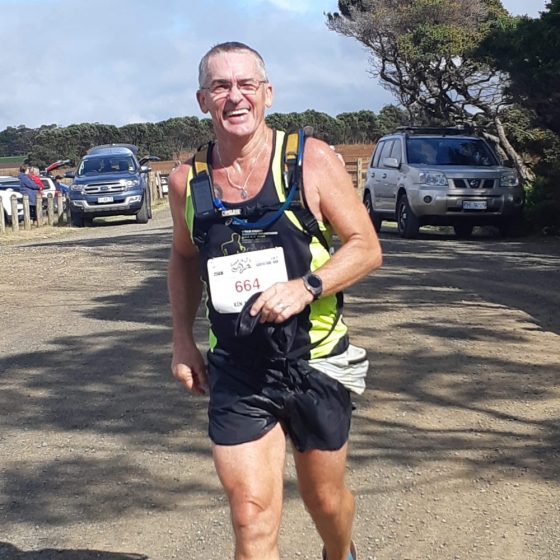 The race started with a freezing wind, some competitors like me were hiding behind trees to keep warm. About 400+ runners and walkers lined up to complete this 25km event, and 300 of us were driven by bus from Wynyard to Boat Harbour Beach for the 8:30am start.
An amazing thing then happened, the leading 50km runner (they started at 6:00am) came through this checkpoint at 8:15. He looked as fresh as all of us waiting to start our 25km. With 400 athletes cheering him on, he took off for the last 25kms to the finish line. The noise was incredible and deafening.
Our start was right on time, and we headed east from the Surf Life Saving Club along the beach and then scrambled over some rocks. It was a beautiful course to run. Running (and walking at times) up, over and down some rolling coastal farm land.  I appreciated every minute of running through this farmland, it was stunning! A big thanks to the private land holders who have been generous enough to let us on their land.
In the distance I could see the Table Cape Lighthouse, the halfway mark. We then left the farmland and climbed upwards to the Lighthouse along a fence line. There was an aid station at this stunning spot and lots of people cheering all the runners on. I felt quite good at this point, better than expected.
From the Lighthouse there was yet another climb to the lookout at Table Cape. I could see the finish line for the very first time. It was mostly downhill from the lookout to the right hand turn up the Inglis River track, 3kms to the bridge and 3kms back on the other side. Now that section was what I call, 'does my head in'. You could see runners heading home on the other side of the river and the turnaround point bridge was just nowhere to be seen. Head down and keep plodding along, that's my mantra. And it wasn't long before I saw the sign, 1.5km to the finish line.
My friend Dusty was there to cheer me over the line. The delight of achieving and knowing that I have accomplished what I set out to do, does makes me feel fabulous. Now I must tell you the pain in the legs took two days to wane. All good by Wednesday ready to head to Broulee for the Ocean Swim.
I have officially GONE NUTS.
Cheers Kenny Mac